A hunt, a clock and an audience.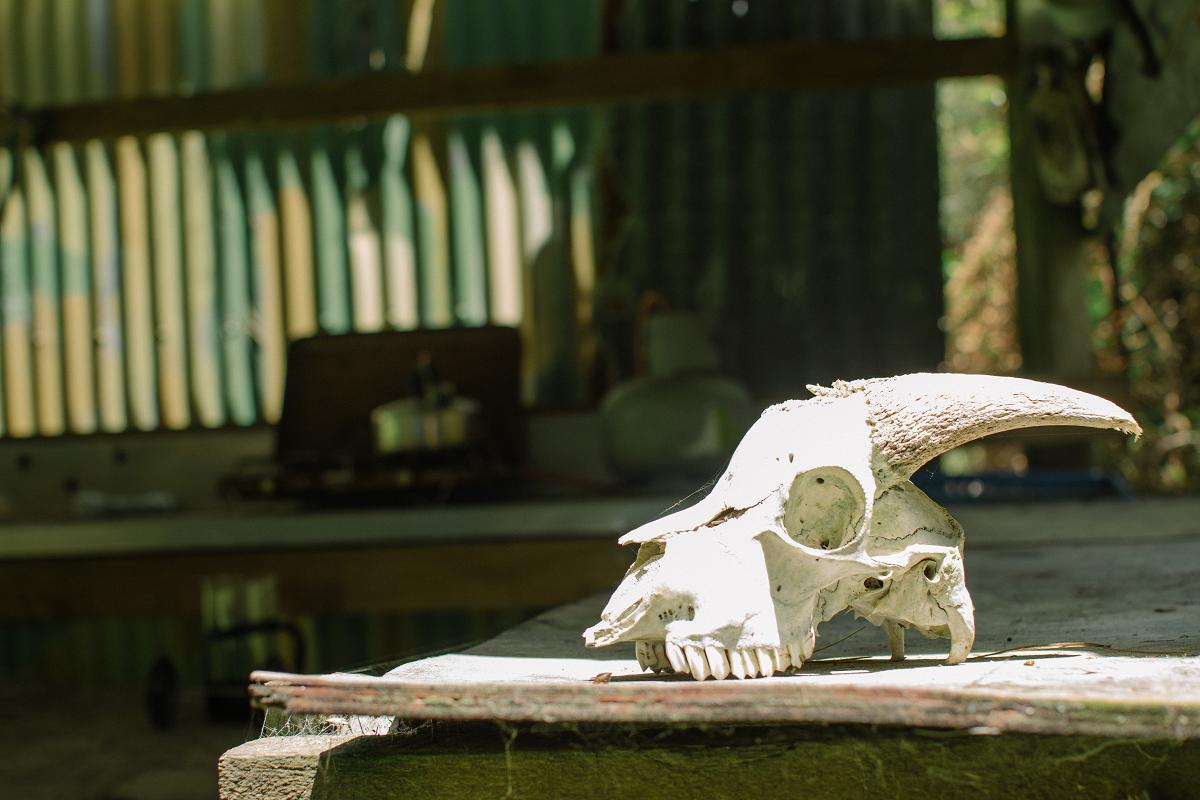 I wasn't ready.
She exploded from a pine tree 30 metres away and vanished.
Oh my god. I turned around with shaking hands.
Three sets of wide eyes were staring back at me. My girlfriend, my sister and her boyfriend, Finn.
Finn had invited us out to this stunning block of pines his family owned in the Kaweka ranges. The home of sika deer.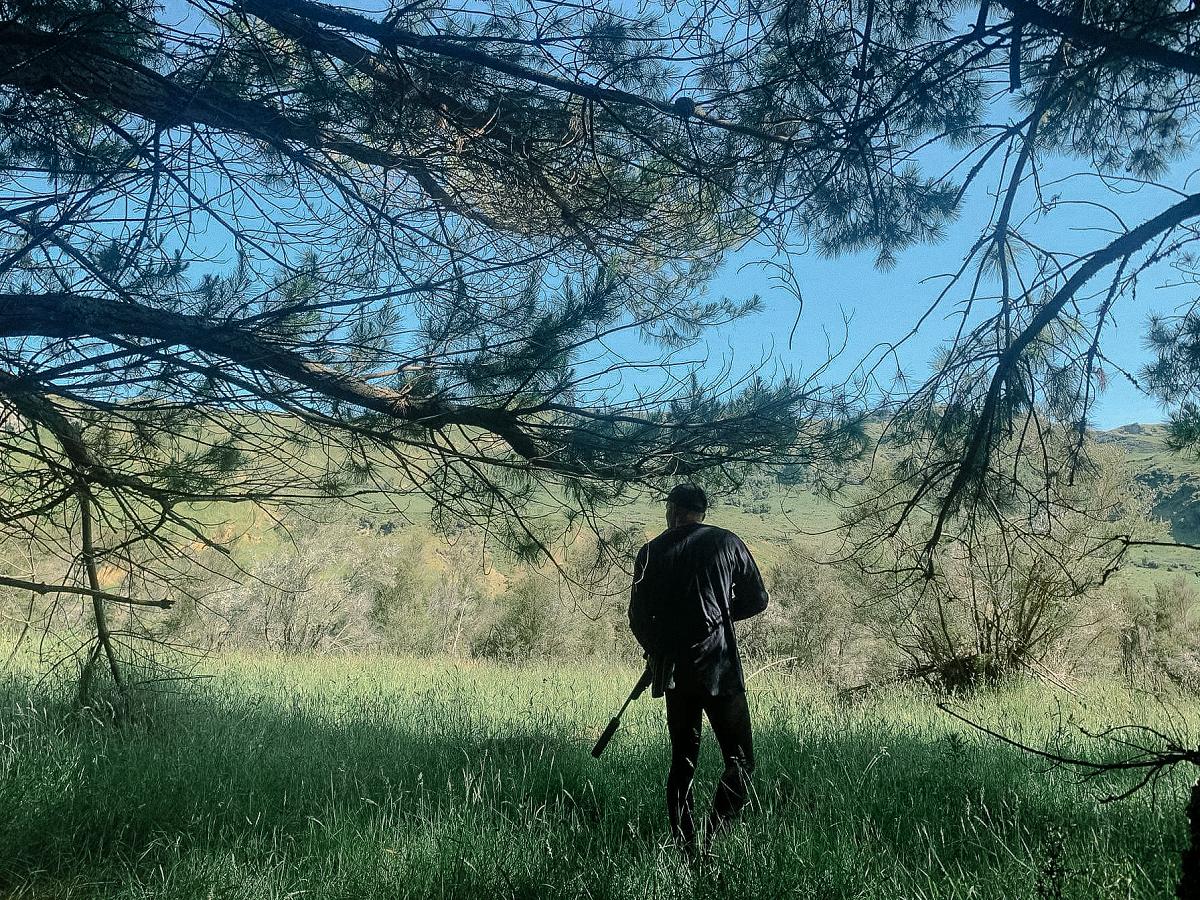 Half deer, half ghost.
Sika have a reputation for invisibility. And everyone was anxious, for my sake. This afternoon was the one chance I'd have to get my first deer before leaving New Zealand for another 18 months. I'd been dreaming about it after many unsuccessful trips.
"Head up that hill to the chairs," said Finn, pointing ahead. But before we could move, there was a dilemma.

We weren't after a curry.
But we were surrounded by goats.
They appeared from nowhere in the knee-high grass. 15 metres away, nannies were leading kids at their feet.
I waited for them to give us up.
But the bleats never came. Whether they'd discovered us or not, the whole mob stayed calm. 

And the girls started melting.

The way they were looking at each other, one thing was obvious. If they could have their way, our hunt would be turning into wild pet recovery.
But before they could say anything, the goats wandered off.
Following a beaten animal track, we walked up the hill in single file. Once we reached the top, I learned how The Chairs got their name.

Better than Lay-Z-Boys

Two rusted deck chairs sat on top of the hill. Laid out in front of them were slopes of pine trees, scrub and farmland.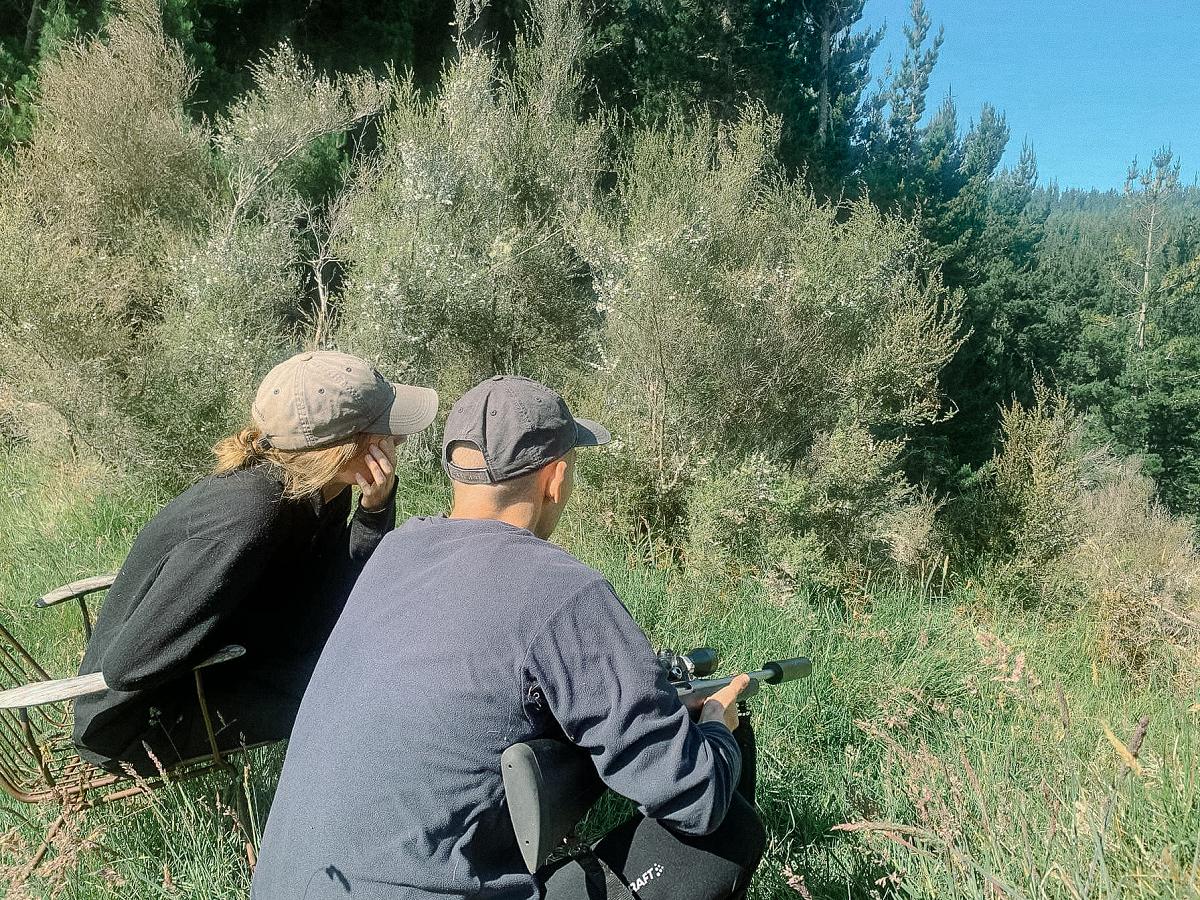 It was 1600 and time to get out the binoculars.
15 minutes later, I couldn't believe it. A speckle of brown and white had appeared next to a patch of scrub.
There was no doubt about it. I was looking at a young male sika.
"Finn, check this out."
He looked into the binos for a moment and started pulling off his boots. The stalk was on.
We said goodbye to the girls.
They'd be watching TV for the next half hour. Every route to the deer was in full view.
As quietly as we could, Finn and I moved down the hill to set up a shot. Our eyes were on a shaded corner of the track around 150 metres from him.
Then we froze.
More goats.
This time, they weren't kind. Bleats screamed and the mob crashed away in the direction of our deer.

It was done.
Bringing up the binos, I couldn't find him.
Both girls would remind us later (several times) that every animal in the nearby paddock had "obviously known we were there the whole time anyway", but that's beside the point.
Unsure of what to do, we lay down with a plan to be patient.
Five minutes later, he was back.
My heartrate cranked up.
Flashing before my eyes were videos I'd seen of rookies scoping themselves. It's when a shooter fails to set the rifle properly on their shoulder, and the scope smacks them in the face.
"Hold on a sec." I had to shoot to an upwards direction and we were lying on a downward slope. Getting Finns .270 comfy on my shoulder wasn't easy.
Finn crawled away.
30 seconds later, he was back with two giant dirt clumps. Nature's bipod.
We propped up the barrel and I checked on our deer again. He was half turned away, presenting a spot between his shoulder and ribs.
I pulled the trigger.
The gun bucked and I lost sight of him in the scope. Holding my breath, I waited for Finn's report from the binoculars.
He wasn't saying anything.
Shit. Had I missed? I grabbed the rifle's bolt and rammed in another round.
"He's still up, but he's wobbling. You've definitely got him man!".
The deer teetered for five more seconds and tumbled down the hill. We got up and Finn shook my hand with a grin that matched mine.
Ten minutes later, we reached him.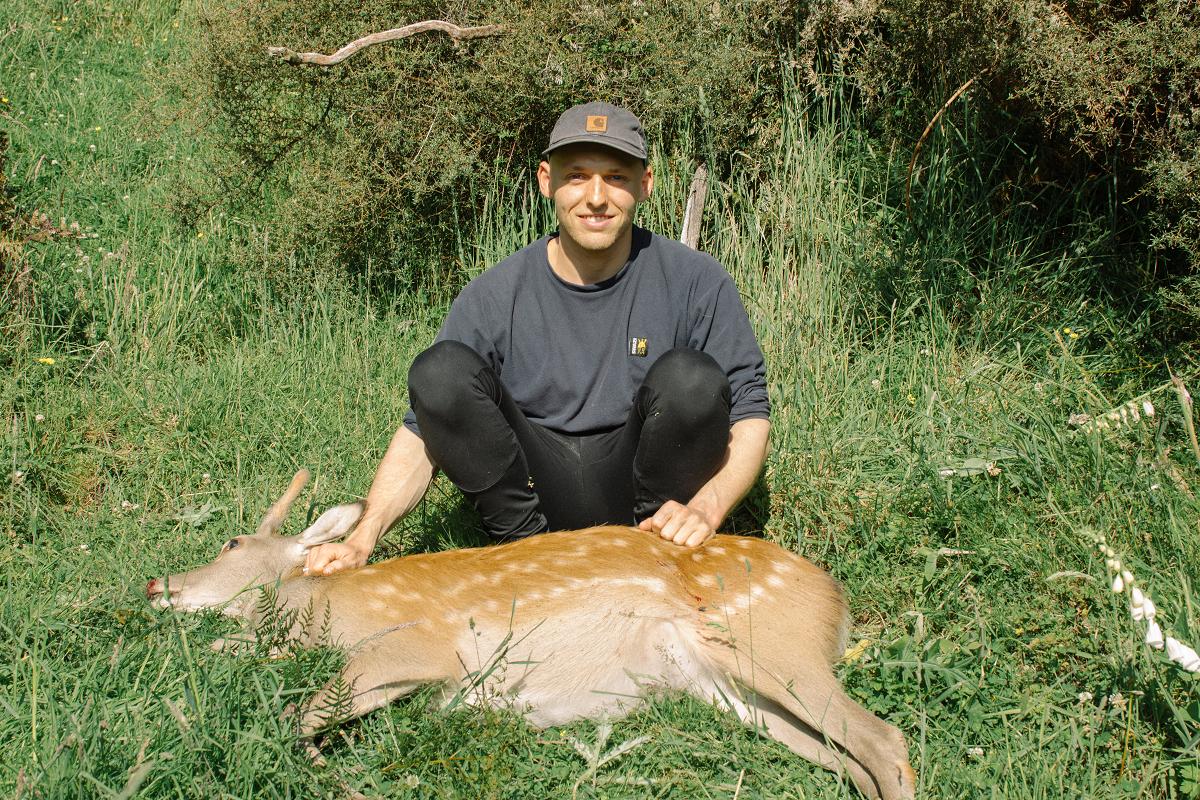 The bullet had made it quick: straight through the liver.
After cleaning him up, a 25 minute hike with 60kgs made up for any feeling that it had been too easy.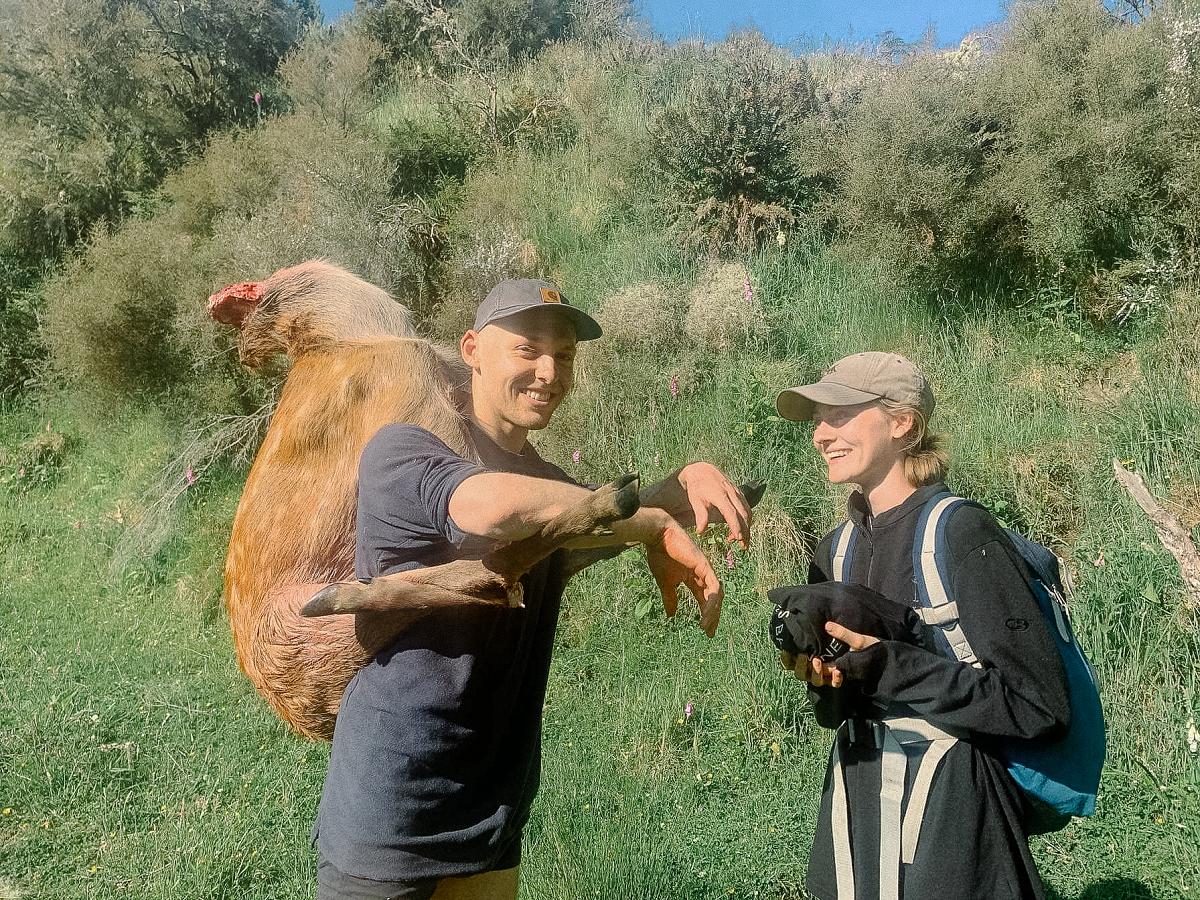 How unreal is that feeling?
Knowing that the deer had an awesome life, and gave his so one less animal endured the farm for our sake.
The next morning started with heart, garlic and onions in the pan. I know I'll be back for seconds.